Kathryn Chval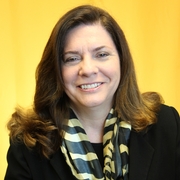 Reclaiming the Floor in Mathematics Teacher Education: Where Do We Begin?
8:40 to 9:25 a.m.
Room 103 (Kiva)
Imagine a future where every student, parent, educator, professional, politician, journalist, researcher, leader, and philanthropist values Educational Engagement, Inclusion, Research, Innovation, and Solutions. Imagine you were part of educational systems that had leadership, vision, strategy, infrastructure and capacity to answer problems of practice; strengthen communities; develop, understand, and expand effective models to scale; and pursue research and innovation so that students at every level were successful with learning mathematics.
The challenges to accomplishing this vision seem endless such as: Inequities in educational settings; insufficient and inadequate resources; lack of coordination and organization; limited access to educational opportunities; growing student debt; development and distribution of the teacher workforce; public questioning our expertise and value; competitors; and policies that constrain innovation and success. Too many people throughout the country do not acknowledge, understand, or value the significance and impact of these challenges.
In this opening session, Dr. Chval will draw upon her own experiences as a mathematics teacher, mathematics teacher educator, researcher, and administrator to frame challenges in mathematics education in today's political context so that more people are equipped to better understand, respond to, and advocate for mathematics and mathematics education in Michigan at the system level. She will also engage the audience in considering the question: What can we do so that these challenges are understood, acknowledged, and a larger number of people invest in and work toward solutions using coordinated efforts and resources?
Your participation in this work is critical to the future success of mathematics education.
Biography
Dean and Professor in Mathematics Education
University of Missouri
Kathryn Chval holds the Joanne H. Hook Dean's Chair in Educational Renewal and is a Professor of Mathematics Education in the College of Education at the University of Missouri. Prior to joining the University of Missouri in 2003, Kathryn was the Acting Section Head for the Teacher Professional Continuum Program in the Division of Elementary, Secondary and Informal Science at the National Science Foundation (NSF). Kathryn worked at the University of Illinois at Chicago from 1989-2001 after leaving her position as a third grade teacher. She has directed or co-directed research teams that received nearly $21 million in funding and was funded continuously by the NSF from 1995 to 2016. Additionally, she is the recipient of the prestigious NSF Early Career Award and the Association of Mathematics Teacher Educators (AMTE) Early Career Award. Her research focuses on effective preparation models and support structures for teachers, effective elementary mathematics teaching for English language learners, and curriculum standards and policies.