Panelist: Sherry Gay-Dagnogo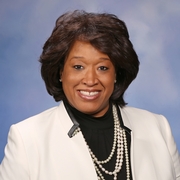 Invited Panel of Practitioners
10:30 to 11:15 a.m.
Room 103 (Kivas)

The purpose of this session is to provide a panel of practitioners at various levels in education who will describe challenges related to improving teaching and learning in their area and then provide one or two suggestions for addressing these challenges.
Biography
Former Teacher and Current State Representative for District 8
Michigan House of Representatives
State Representative Sherry Gay-Dagnogo, M.Ed., is in her first term as state representative of Michigan's 8th District, serving northwest Detroit, including the Brightmoor and the Grandmont-Rosedale communities.
Rep. Gay-Dagnogo is an educator, former Detroit City Council staff member and community organizer dedicating to transforming Michigan's education systems. As a Detroit public school science teacher, Gay-Dagnogo learned firsthand the value of good education systems and the struggles classrooms are facing. She has previously led community engagement projects funded by the city of Detroit, UAW Region 1A, AFL-CIO, AFSCME Council 25, Great Start Collaborative, the Kresge Foundation, the Kellogg Foundation, UCLA, United Way of Southeast Michigan and the Skillman Foundation. She knows the importance of connecting community with their neighbors and leaders to solve problems.