Appenzeller Comments on Global Fellowship Trip to China
Release Date: Aug 1, 2016
I was awarded the Fellowship to Enhance Global Understanding (FEGU) 2016 China experience to help develop a global perspective and understanding of how globalization influences education. Lynn Paine, along with our group leaders, emphasized the importance of viewing this experience as more than a trip. The FEGU is an opportunity to learn from others and build connections for professional and academic growth. A combination of cultural, academic, and personal experiences were arranged to maximize our limited time in China. From May 10-May 31, I traveled to three locations: Beijing, Chongqing, and Shanghai.
Professors and graduate students of Beijing Normal University (BNU) welcomed us to China. Our experience began in Beijing where many of our excursions focused on political and historical landmarks: Tiananmen Square, the Forbidden City (Imperial Palace), Temple of Heaven, The Great Wall, 2008 Summer Olympics Park, and Confucius Temple. At each of these locations I learned about important events in Chinese history to help frame the current and future discussions during this trip. We also participated in academic lectures from professors at BNU. An opening lecture was given that specifically focused on the Chinese education system from primary school to teacher certification. I learned that compulsory education in China (which is provided by the government) extends through grade 9. After the nine years of compulsory education, students take entrance exams and parents are responsible for the cost. The professor also gave background information about teacher preparation and certification process. We also visited several schools which included briefings by principals and teachers. These were opportunities for us to interact with fellow educators and ask questions about their experience as educators.
After our few days in Beijing, we flew to Chongqing where we were greeted by graduate students from Southwest University (SWU). We would spend most of our time in Chongqing, focusing on academic learning. SWU had organized many unique opportunities to talk with professionals from many countries and visit diverse school settings. While at SWU, we were lucky to be present for an International Forum: International Forum on the Cultivation of Excellent Teachers. At this forum, we heard multiple professors and graduate students speak about teacher preparation in China, as well as other countries.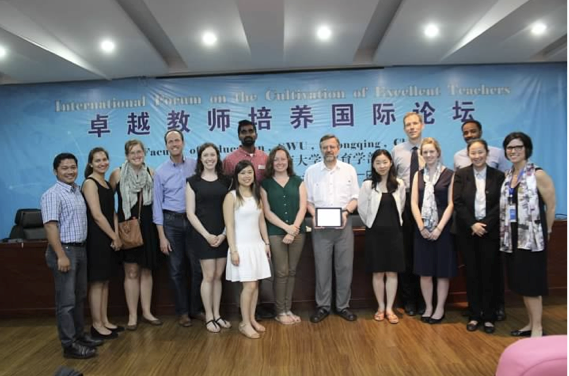 Each of us from Michigan State University (MSU) was also asked to enter the conversation by giving academic talks about our current research interests that provided new and developing research in our fields of study. This exchange between SWU and MSU helped all participants to interact and begin conversations about present and future work. My academic learning was enhanced by being paired with a SWU professor and graduate student who had similar interests. I had opportunities to communicate with the professor and build a professional relationship that will continue beyond my limited time in Chongqing. I had many conversations with my graduate student buddy about common and differing experiences as graduate students. These personal connections were one of the most memorable and valuable aspects of the trip.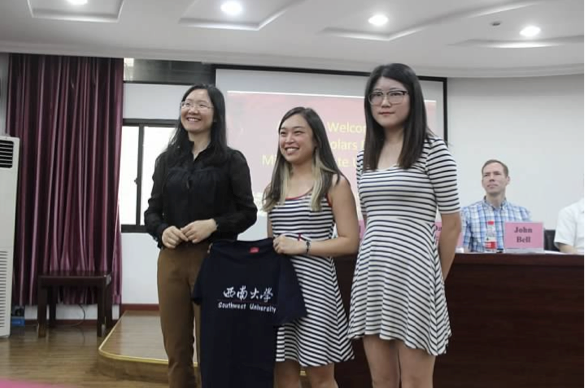 SWU worked very hard to coordinate visits to schools with unique educational focuses and diverse geographic locations. The schools included students who were in primary, middle, high school, and beyond. Many of the schools had creative and innovative curriculum, such as calligraphy and music, included in the education of their students.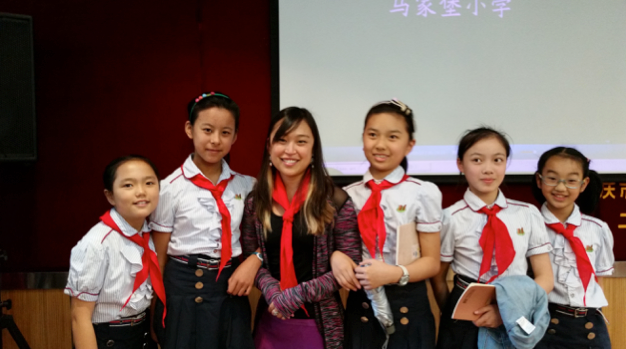 I appreciated the same thoughtfulness given to us when SWU included activities to represent the influence of artistic and cultural traditions. A lecture about Understanding Chinese Culture: the Relation Between Taoism and Traditional Chinese Painting, visit to a tea ceremony, instruction in Chinese calligraphy and paper cutting, and seeing pandas at the Chongqing Zoo were all integrated into our schedule.
I also valued their attention to including alternative education and teacher preparation institutions, such as the Zhixin Factory School and Jiangbei Teachers Training Institute. We all had difficulties saying good-bye to our friends at SWU, but I know the relationships formed will continue to develop.
The last location was Shanghai where visits to Shanghai Vocational School and Traditional Chinese Medicine Center were impressive. The last day of my experience included the most touching first hand recount of an individual who lived through the cultural revolution.
After returning to the US, I have had opportunities to share about my time in China. Through my recounts and answers to questions by interested individuals, I have reflected on my time and realized it is because of the commitment of MSU that I had the experiences in this program. I have thought about mathematics education and different instructional methods in the US. Because of globalization and immigration, I am interested in how education is affected. Observing mathematics classes in China and talking with my mentor professor in SWU helped me see parallels in the struggle to provide education to a diverse body of students and consider differences.