Co-Integrate Mathematics Seminar: December 7th
Release Date: Dec 1, 2020
You are cordially invited to attend the Co-Integrate Math Seminar Series talk on Monday, December 7, 2020. Jenny Green and Corey Drake will be talking about their current research from 12:00-1:00 pm.
Monday, December 20, 2020
12:00-1:00 p.m.
https://msu.zoom.us/j/95926264864
Meeting ID: 959 2626 4864
Passcode: 151930
Abstract: The purpose of this Co-Integrate session is to hear a little bit about the current research of two faculty whose research speaks to issues that matter in the fields of mathematics education and statistics education, respectively. There will be a 30 minutes Q&A with the presenters. All are welcome! We hope you will join us. No registration needed – just join the Zoom room noted above.
Bios: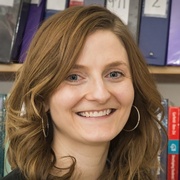 Jennifer Green: Jennifer Green is an Associate Professor of Statistics Education whose research focuses on the development of teachers in grades K-16, as well as the development of statistical methodology to characterize the impacts of educational programs for teachers. She received her Ph.D. in Statistics from University of Nebraska-Lincoln in 2010 and worked at Montana State University before joining the faculty at Michigan State University in 2020. In her current research projects, she is exploring K-12 teachers' uses of data and statistics in classroom inquiry, innovations to modernize and transform postsecondary statistics coursework, and graduate student development in teaching and scientific oral communication.
Corey Drake: Corey Drake is a Professor of Teacher Education and Mathematics Education at Michigan State University. For nine years, she was also the Director of Teacher Preparation at Michigan State. She received her PhD in Human Development and Social Policy from Northwestern University in 2000. Her research and teaching interests center on the roles of curriculum and teacher preparation in supporting teachers' capacity to teach elementary mathematics to diverse groups of students in transformative and justice-oriented ways. Her work has been published in Educational Researcher, Journal of Mathematics Teacher Education, Journal of Teacher Education, and Teaching Children Mathematics, among other venues.
Co-Integrate is a speaker series, jointly sponsored by the CREATE for STEM Institute and the Program in Mathematics Education, designed to support internal networking among colleagues in the College of Natural Science, College of Education, and K-12 school partners interested in the teaching and learning of mathematics in K­-16 settings. This series features talks by MSU faculty and graduate students who are working on projects to improve math teaching and learning at MSU and in Michigan more broadly.

The Co-Integrate Seminar Series welcomes local K-12 teachers and administrators to all of its events.