Co-Integrate Mathematics Seminar, February 26
You are cordially invited to attend the Co-Integrate Math Seminar Series talk on Monday, February 26, 2018, 12:00-1:00 pm in 252 Erickson. Kristen Bieda and Lynmarie Posey from MSU will be presenting Mathematical Knowledge for Teaching Chemistry.
Monday, February 26, 2018
12:00-1:00 p.m.
252 Erickson
Michigan State University
Water and Coffee will be served. You are welcome to bring your own lunch.
Abstract:
Progress toward STEM degree depends not only on completing required mathematics courses but also being able to successfully use mathematics to support learning in science courses. Introductory college chemistry courses are often the first place where inadequate preparation in mathematics impedes students' learning in science. In this talk, Drs. Posey and Bieda will share their efforts to strategically incorporate mathematics support for students in Introductory Chemistry. Our findings suggest important implications for developing students' conceptual understanding in mathematics courses. We will also share what we have learned about forging and sustaining an interdisciplinary research project.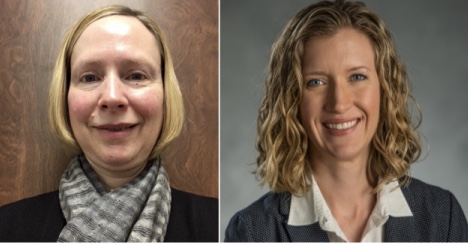 Bios:
Lynmarie Posey is an Associate Professor in the Department of Chemistry and CREATE for STEM Institute. She joined the faculty at Michigan State in 1999. Her current research is centered around studying approaches to support students with low mathematical placements in successfully transitioning to general chemistry through a chemistry bridge course. This work led to the collaboration with Kristen Bieda. Posey and Bieda have recently begun a project to explore the nature of mathematical knowledge for teaching in the context of chemistry (MKT-C). She is also interested in the nature of social networks in cohort programs and how they may promote student success.
Kristen Bieda is an Associate Professor of Mathematics Education and serves as the Associate Director of Mathematics for the CREATE for STEM Institute here at Michigan State. She researches how structures, such as lesson study, for supporting teachers in developing practice that fosters engagement in mathematical practices and how learning manifests from such teacher collaboration. She also researches the engagement of middle school students in mathematical argumentation, including justifying and proving. She is particularly interested in understanding what prospective teachers learn through experiences which allow them to approximate authentic teaching practice.
Co-Integrate is a speaker series, jointly sponsored by the CREATE for STEM Institute and the Program in Mathematics Education, designed to support internal networking among colleagues in the College of Natural Science, College of Education, and K-12 school partners interested in the teaching and learning of mathematics in K­-16 settings. This monthly series features talks by MSU faculty and graduate students who are working on projects to improve math teaching and learning at MSU and in Michigan more broadly.

The Co-Integrate Seminar Series welcomes local K-12 teachers and administrators to all of its events. Reimbursement for on-campus parking will be provided for K-12 school staff attendees - be sure to ask for an envelope before you leave the event!