Graduate Student Post: Mike Morissette
Release Date: Dec 2, 2015
In the Fall Semester of 2012, Michael Morissette joined MSU's doctoral Program in Mathematics Education. His initial research interests broadly focused on how various pieces of legislation affect mathematics teachers. Currently, Michael is researching teacher evaluations with an emphasis on tying student achievement and growth data to the evaluations.
Michael attended Northern Michigan University where he received a Bachelor's Degree in Secondary Education Mathematics, and a Master's Degree in Mathematics Education. After obtaining his Bachelor's Degree, Michael spent nine years as a middle school and high school mathematics teacher in the NICE Community School System in Ishpeming, Michigan where he taught 6th grade math up through calculus. The acronym NICE stands for four districts that consolidated almost fifty years ago: N for National Mine, I for Ishpeming Township, C for Champion, Humbolt and Spurr Townships, and E for Ely Township. Michael graduated from the NICE Community School system before beginning his collegiate career at Northern Michigan University.
Now, Michael spends the majority of his time working on his mathematics education research. Michael also teaches a secondary mathematics methods course, supervises secondary mathematics interns in local schools, and has conducted research as part of the DA4 Research Project, whose focus is on understanding and improving Algebra II courses.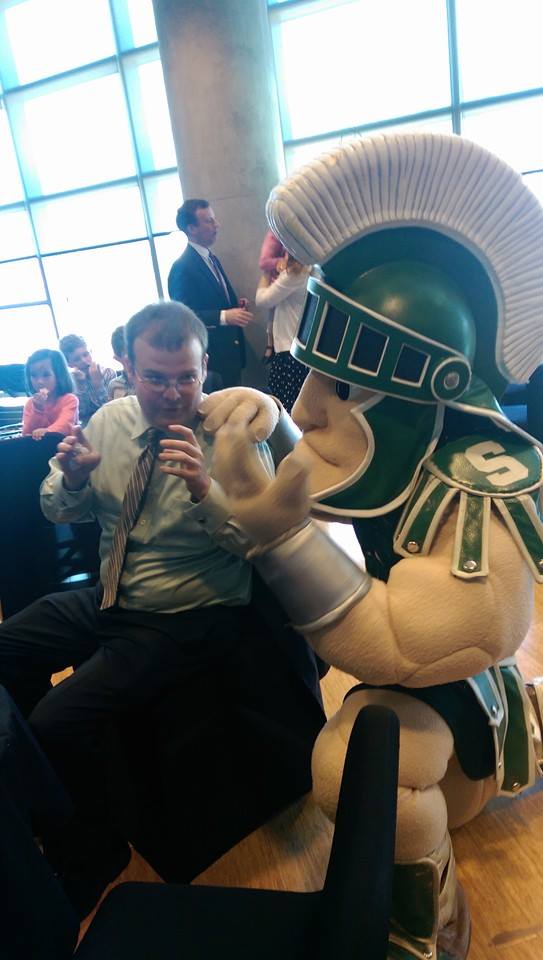 Michael's favorite pastime is playing weekly trivia at Leo's Lodge with the #PrimeSteeleheads (named after former mathematics education professor Mike Steele). Oftentimes, the PrimeSteeleheads win, which results in the PrimeSteeleheads' meals being "on the house".
Michael also enjoys watching the Green Bay Packers and Detroit Tigers. Michael commented that he tries to attend a handful of Detroit Tigers and Lansing Lugnuts games every year. Michael is not only an avid sports fan—he is also a skilled fisherman, but struggles to get out on the water as often as he would like in the Lansing area.
Upon his graduation from the PRIME program, Michael says that he hopes to receive a professorship at a teaching-focused university.
Written by John J. Thomas, III