Lappan Celebrates Nearly 50-year Career at MSU
Release Date: Jun 10, 2014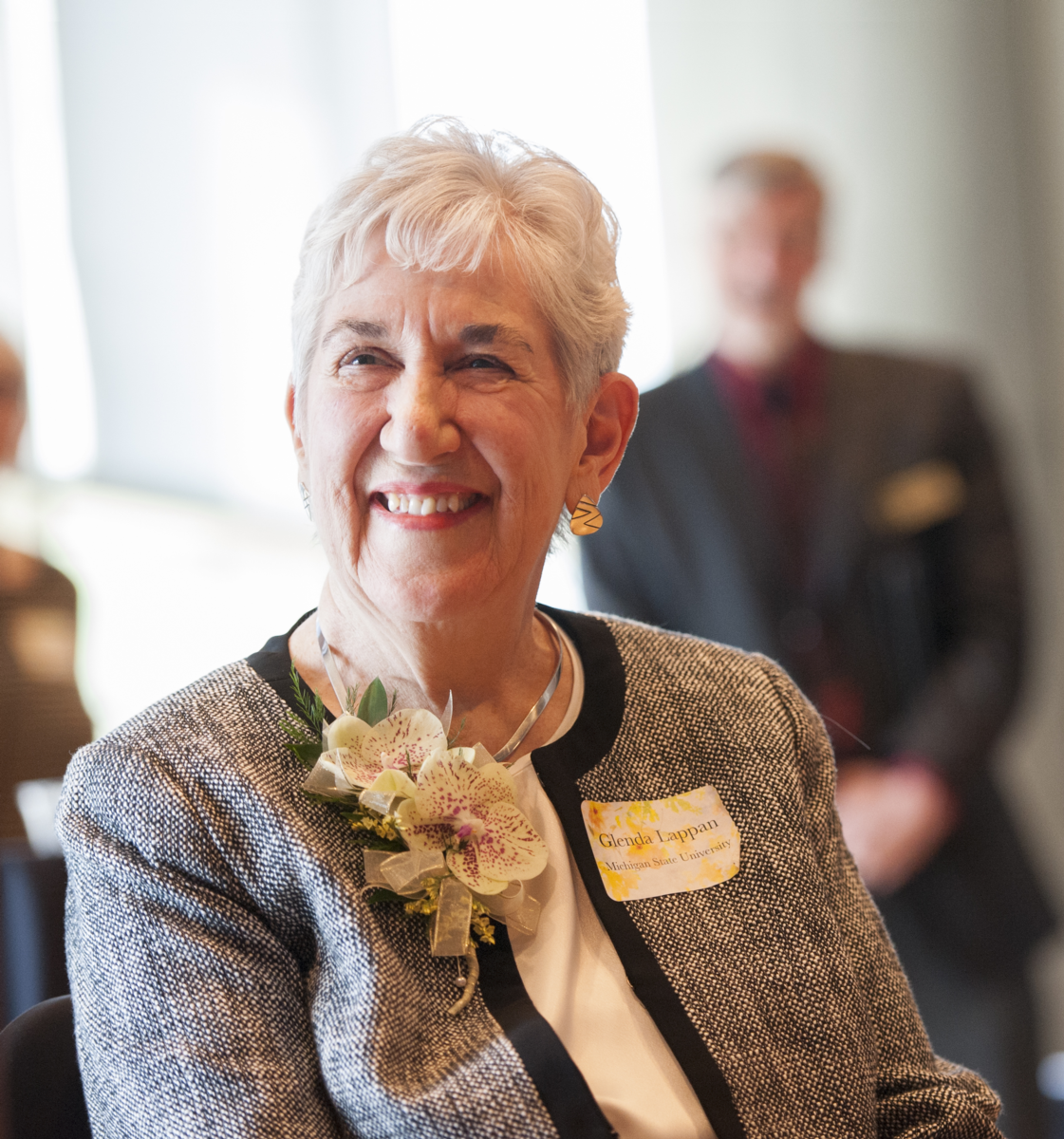 Glenda Lappan, University Distinguished Professor at Michigan State University (MSU) and co-author of the Connected Mathematics Project (CMP) middle school mathematics curriculum, has officially retired from MSU. A reception was held on April 25th at the Wharton Center for Performing Arts on MSU's campus to celebrate her long and illustrious career in Mathematics Education, which began in 1965. Attendees came to East Lansing from all over the U.S., including several from other countries. In addition to Mathematics Education colleagues from MSU and around the country, many in attendance were part of other MSU units with which Glenda interacted throughout her tenure, as well as former and current graduate students, CMP teachers and colleagues, and Glenda's family and close friends.

J. Michael Shaughnessy, retired mathematics education faculty member from Portland State University and the first mathematics education doctoral student to graduate from MSU (who also was an advisee of Glenda Lappan), served as the Master of Ceremonies. Remarks on Lappan's career were offered by: R. James Kirkpatrick, Dean of the College of Natural Science; Dave DeWitt, Associate Dean of the College of Natural Science; George Leroi, Former Dean and emeritus faculty member, College of Natural Science; Elizabeth (Betty) Phillips, CMP co-author and Mathematics Education Faculty member; and Vince Melfi, Director of the Program in Mathematics Education, in addition to Shaughnessy. Glenda's daughters, Mary Lappan Park and Susan Lappan, delighted the audience with stories of life growing up with a mother who is a famous mathematics educator, or "math ed rock-star," as they noted. Glenda publicly thanked all for their support and friendship over the years, and entertained folks with amusing tales from her experiences as a mathematics educator.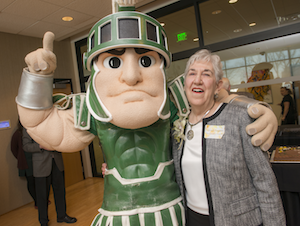 Shaughnessy, accompanied by Judi Zawojewski on the guitar, surprised Glenda by performing an original song highlighting Lappan's work. Glenda was presented with a memory book of pictures and letters from colleagues throughout the years. Even Sparty joined in on the festivities, captivating Glenda's grandchildren and all of the MSU Spartans at the event.

Glenda Lappan, who began as an Assistant Professor in the Mathematics Department at MSU in 1965, has served as President of the National Council of Teachers of Mathematics, helped develop the NCTM publications Curriculum and Evaluation Standards for School Mathematics and the Professional Standards for Teaching Mathematics, which she considers highlights in her career, along with the development of the Connected Mathematics Project. Glenda was a pioneer and instrumental in furthering mathematics education in the United States, with contributions too numerous to list. She was Director of the Division of Science and Mathematics Education here at MSU, and has served on numerous boards and committees at MSU and beyond. Lappan has authored extensive articles and presented all over the world on her work in mathematics education. She will be greatly missed, but is most deserving of a retirement. Glenda intends to travel and spend quality time with her husband, Peter, retired Professor from MSU's Department of Mathematics, children, and grandchildren.