Osibodu Receives 2021 Pat Clifford Award
Release Date: Nov 12, 2021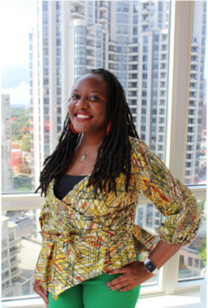 Oyemolade (Molade) Osibodu, Spring 2020 graduate of the PRIME mathematics education doctoral program, is a 2021 recipient of the Pat Clifford Award. Dr. Osibodu is an Assistant Professor in the Faculty of Education at York University in Toronto, Ontario.
The Pat Clifford Award is a Canadian award that recognizes the work of emerging researchers – their research contributions, their promise, and their commitment to breaking new ground or revisiting commonly held assumptions in education policy, practice or theory in Canada.
Dr. Amber Moore, at Simon Fraser University, also received a 2021 Pat Clifford Award.
Osibodu and Moore were selected based on the potential of their research to make a big impact in K-12 education, ensuring classrooms become more inclusive and responsive to students' major challenges.
Dr. Osibodu explores how K-12 mathematics can be more inclusive of racialized communities and help foster important discussions about social justice. Broadly, her research lies at the intersection of mathematics and social justice. More specifically, Dr. Osibodu explores equitable approaches to ensure Black students feel seen and valued in their learning; interrogates how mathematics can be leveraged as a space to discuss local and global issues of (in)justice in the classroom; and, as Canada continues to be a hub for many African immigrants and refugees, she examines how they negotiate learning in mathematics spaces while also navigating racialization often for the first time.
Please refer to the EdCan article for further details on the award and interview with Dr. Osibodu.
Congratulations, Molade!