PRIME Receives Graduate School Outstanding Graduate Program Community Award
Release Date: May 15, 2019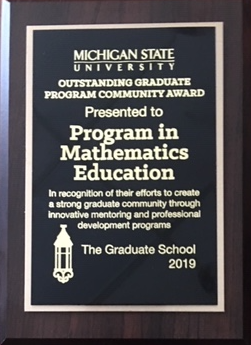 The PRIME doctoral program has been selected as the recipient of the 2019 Graduate School Outstanding Graduate Program Community Award. The award recognizes a graduate program for exemplifying mentoring best practices—a tribute to the efforts of the PRIME faculty, students, and staff to build a nurturing and supportive scholarly community.
The selection committee was impressed by the variety of mechanisms the PRIME program uses to deliver excellent mentoring and professional development opportunities to graduate students. The Transitions from Grad School (or "Homeroom") workshops focusing on the socio-emotional aspects of becoming a faculty member demonstrate the extent to which the program thinks proactively and intentionally about the whole experience of the students.
The Co-Integrate Mathematics Seminar Series is an outstanding example of how a typical career activity can be reenvisioned as a community building activity, where the community is conceived of broadly to include faculty, students, and K-12 teachers/administrators.
The student nominating letter—written by current students and alumni who are now faculty elsewhere—details the thoughtful, multi-stage mentoring program that includes faculty and peer mentors in career and research mentoring: it provides younger scholars an opportunity to learn from more advanced students and "provides advanced graduate students experience in mentoring others on their research."
PRIME will receive an engraved plaque in honor of the award and $5000 from the Graduate School to support graduate program activities in 2019-20.
Director of PRIME, Ralph Putnam, noted, "As a PRIME faculty member, I feel tremendous gratitude—for the work and attention by all associated with PRIME for creating and sustaining such a supportive and nurturing scholarly community—and pride—for being a part of that work."