Staff Post: Lisa Keller
Release Date: Jul 5, 2016
Lisa Keller, Coordinator for the Mathematics Education Doctoral Program since 2006, was born and raised in Adrian, Michigan. Lisa recruits students to the program, and once students are admitted, becomes their informal advisor. She also supervises Graduate Teaching Assistants for some mathematics content courses for preservice elementary teachers, is the content webmaster for prime.natsci.msu.edu, and performs a variety of other duties within the program.
After graduating from Adrian's school system, Lisa went on to pursue a Bachelor of Science degree in Mathematics from Central Michigan University. Lisa would eventually go on to receive her Master of Arts degree in Secondary Mathematics Education from Western Michigan University.
Lisa held multiple positions before joining PRIME. She started her career as a high school mathematics and science teacher, spent time as a mathematics instructor for several universities, then came to MSU as a Teaching Specialist for the Department of Mathematics before working as the Production and Field Site Manager for the Connected Mathematics Project (CMP2), a middle school mathematics curriculum.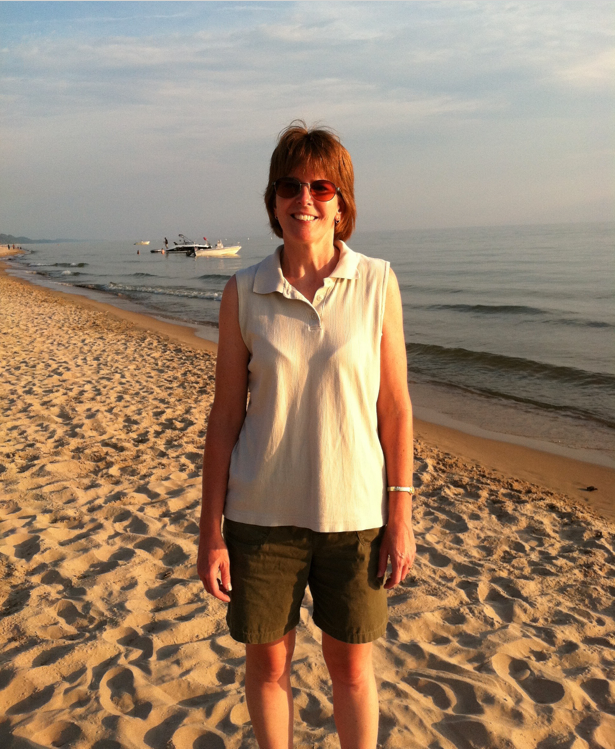 Lisa and her spouse jokingly state that the reason they moved back to Michigan from Iowa State University was due to MSU beating ISU in their Elite Eight matchup in the 2000 NCAA Men's Basketball tournament. However, the real reason they moved back (or, so they say) was to be closer to family.
During her free time, Lisa enjoys golfing, kayaking, biking, walking, playing with their dog, watching movies, hanging out with friends and family, and traveling. Lisa says her first real trip outside of the country was to London. Lisa was able to enjoy many unique experiences across the pond, including getting lost in a hedge maze at an ancient castle, and seeing an egg cracked on the pizza for her cousin's friend (a local) who was joining them for dinner.
In the end, Lisa says that she loves working for MSU and that this university is a great place to work "due in a very large part to all of the wonderful students and co-workers here – Go Green!"
…
Go White!
Written by John J. Thomas, III