Tunstall is Editor of Quantitative Literacy Book
Release Date: Apr 24, 2019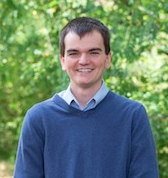 Mathematics education doctoral student Samuel "Luke" Tunstall is one of three editors of Shifting Contexts, Stable Core: Advancing Quantitative Literacy in Higher Education, a book recently published by the Mathematical Association of America (MAA). (The book is available through MAA; the e-book version is free to MAA members.)
Luke commented, "Three years ago, Victor Piercey, mathematics professor and Director of General Education at Ferris State University, visited MSU to sit in on some QL classes. He and I talked during the visit about the need for a new volume reporting on quantitative literacy in higher education. There hadn't been one since 2008. So we contacted another QL advocate—Gizem Karaali (faculty member at Pomono College in CA)—and decided to send out a call for chapters to try to generate a volume. I pushed MSU folks, including Vince [Vince Melfi, mathematics education and Department of Statistics and Probability faculty member, and former director of PRIME] to contribute. If you see the Table of Contents in the e-book, you'll see that we had a nice turnout from MSU, and PRIME in particular."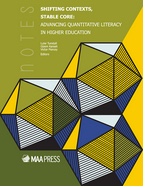 The edited volume includes chapters by former PRIME doctoral students Richard "Abe" Edwards, Visala "Rani" Satyam, Jeffrey Craig, Lynette Guzman, and Frances Harper. In addition to chapters by several scholars known for their work in quantitative literacy, the volume also includes chapters from notable mathematics education scholars including Laurie Rubel, Thomas Philip, Richard Shavelson, and Susan Ganter.
"It was a long process of editing to get the volume accepted, but it's finally here. We are happy with the outcome," Luke noted.
Luke is a PhD candidate in mathematics education and University Distinguished Fellow at Michigan State University. His research centers on the dynamic relationship between quantitative literacy practices and mathematics teaching and learning. These interests developed over time through teaching courses ranging from developmental mathematics and college algebra to statistics and advanced problem-solving for gifted middle-school students in Duke University's Talent Identification Program. He is currently a board member of the National Numeracy Network and chair-elect of the MAA's Special Interest Group on Quantitative Literacy (SIGMAA-QL). Luke will be finishing his dissertation and completing his doctoral degree this summer, and is the new Director of the Quantitative Reasoning Skills Center at Trinity University.
Congratulations, Luke!
Tunstall, L., V. Piercey, V., Karaali, G. (Eds.). (2019). Shifting contexts, stable core: Advancing quantitative literacy in higher education. Washington, D.C.: Mathematical Association of America.